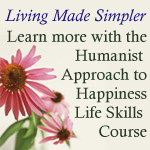 Thank you for registering for Living Made Simpler.
My mailing list at MailChimp will send you a confirmation email. Please make sure to confirm your membership in the mailing list as that is how I will be contacting you with your log in information.
Courses start weekly. At the start of the course, you will receive an email from me with information on how to log into the course.
In the meantime, here is a pdf instruction manual on how to use the Humanist Moodle.
If you have any questions, please do not hesitate to contact me. My email is jen@jen-hancock.com or you may call me at 727-231-4862